A high profile online event took place on 11th November 2020 – Somaliland and the UK: Stability and Sustainable Development. The event was organised by DMA (Developing Markets Associates) in partnership with Guul Group and lasted just under 2 hours; it was DMA's first engagement with the government of Somaliland since the highly successful investment summit in 2014.
Opened by Stuart Brown, Head of the British Office in Hargeisa, and HE Abdi Hersi, Head of the Somaliland Mission in the UK, the event featured Lord Sheikh and the Minister for Investment Promotion, Hon. Mohamed Ahmed Mohamoud (Awad).
Our team attended the event, listening attentively. There is a link to the whole online event further down the page but first some of the things we ourselves noted:
The event was well organised by DMA, sticking to a packed schedule and giving ample time to speakers. Not sure how their other international conferences went but it did sometimes seem that the speeches were too brief.
The Minister of Finance, Hon Dr Said Shire, did give a quick overview of the macroeconomic state of Somaliland – providing statistics such as the Somaliland economy being estimated at $2.79bn in 2017 with the principle sector being Livestock – this equates to a GDP per capita of approx. $600-700.
By far the most insightful presentation was from DP World – a presentation given by Supachai Wattanaveerachai, CEO of DP World Berbera (that presentation starts from around the 52min mark on the main video below). We've posted two impactful slides below: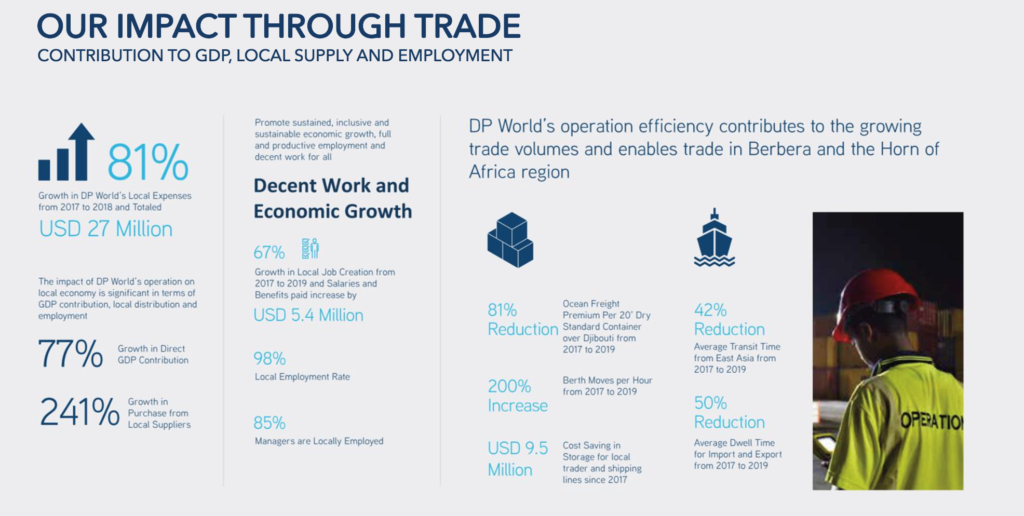 What's more, the Berbera-Wajaale Road is expected to be complete Q4 2021.
For those international companies wanting to invest in Somaliland, Guled Harun Ibrahim, Chief Executive, Guul Group gave a quick presentation on how his company are well positioned to facilitate. They provide ancillary services and early market intelligence on emerging investment opportunities. The Group has an ambitious aim of facilitating $100m worth of investment in Somaliland!
During the Sustainable Investment Opportunities section, there was a notable presentation by Hon. Mohamed Ahmed Mohamoud (Awad), Minister of Investment Promotion on the untapped opportunities in Somaliland, giving a quick overview. One main theme agreed upon with the speech from Hon. Jama H. Mohamoud Egal, Minister of Mining and Energy is the abundant natural mineral resources: gemstones such as Emerald, Sapphire, Ruby and plenty of other mineral such as iron ore, titanium, aluminium, tin amongst others. The basis for this is Somaliland has the same geologic formations as countries along the Mozambique belt.
There wasn't much time for questions but the general feeling was that the key message of the plentiful investment opportunities in Somaliland was made clear and articulated intelligently by various speakers.
You can read the event overview by DMA via the link below and watch the FULL video embedded below also: https://developingmarkets.com/events/somaliland-and-ukstability-and-sustainable-development
Well done to everyone involved in organising and contributing to the event – a much needed positive event in an otherwise turbulent year. We look forward to similar future events on advocating business and investment opportunities in Somaliland.