A sign of a flourishing economy is its services sector and more specifically the food and hospitality sector. A positively moving economy means more disposable income for its people and this creates demand for higher end restaurants. This is certainly true of Somaliland and specifically its capital Hargeisa – in the past couple of years we have seen a number of higher quality restaurants and indeed hotels spring up all over the place. Pop over at any of these restaurants on any evening and it is bustling with customers, especially in the high summer season when all the diaspora flock to the motherland.
One startup and the newest higher end restaurant in the market is that of Indian Canteen Hargeisa. They describe themselves as the first restaurant in Hargeisa to offer authentic Indian and Pakistani cuisine and officially opened July 2018. There is certainly a market for this as there are a lot of synergies between what Somalilanders eat and that of Indian/Pakistani food – a good old Biriyani is not too dissimilar to the daily rice and meat staple. What's more there are a greater number of expats living in the city, a lot of whom have South Asian descents. A common complaint has been that of a 'lack of food variety'.
The execution of the restaurant looks very impressive, with a natural garden landscape setting: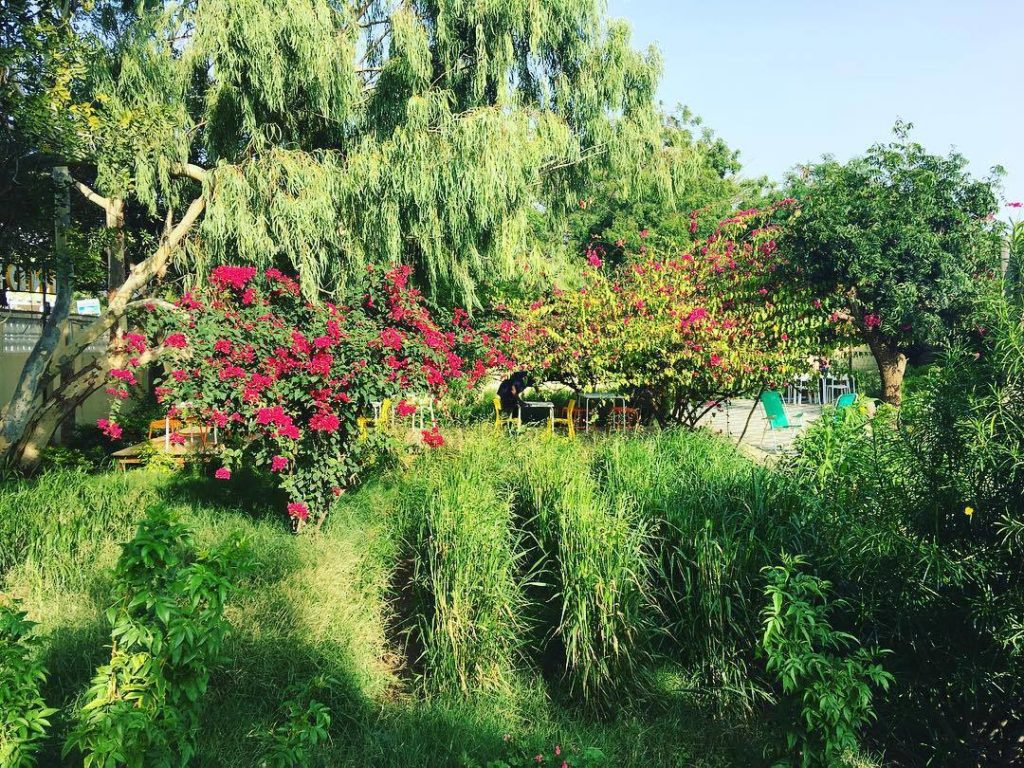 Nice Brand Identity
The founders have also admirably invested in creating a unique and appealing brand identity, starting with this slick logo:
As well as this, they created a nice video which gives a bird's eye view of the restaurant (did they use a drone for this?)
You can watch the short video on their Instagram page here:  https://www.instagram.com/p/Bmu-QEugrcu/?taken-by=indiancanteen
Active on Social Media
Though they only recently opened, the founders have embraced social media, specifically Facebook and Instagram, as we know the target audience are active on social media. They have posted somewhat regularly and generated over 1,000 followers (at the time of writing) with some positive reviews and messages coming through too. This should be common practice but the reason why we're highlighting this is that this is unfortunately not the norm in Somaliland – how many businesses do you know that have an active, engaging social media presence? A simple look at one of the other major restaurants in Hargeisa  – Sultan Restaurant – shows that their last post on their Facebook page was in 2016! A case of resting on their laurels with many more entrants to the market and increased competition.
Way Forward
We wish Indian Canteen Hargeisa restaurant the best of luck and commend them on their startup. A Somaliland startup that is thinking about building a brand and embracing Social Media.
A few further recommendations however:
Add the Menus on the Social Media pages – Facebook actually allows you the ability to add Menus directly on the Facebook page, just like the restaurant here:  https://www.facebook.com/E3Ranch/app/160363220729661/
Launch own website – what business does not need a website in this era?
Build up reviews and encourage customers to follow social media pages
Finally, make sign up with food delivery service Gulivery if not already 🙂
In the near future, we hope to invite the founder(s) and get more insights into their journey and will update here.