Somaliland Telecoms Sector Guide By SomalilandBIZ
Telecoms is considered one of the most innovative and commercially important sectors in Somaliland's economy and the objectives of this Sector guide is to:
a) Provide a top level historic overview of the industry
b) Give key numbers and available statistics
c) Highlight both key big players as well as the small players
d) Educate on current status of sector as well as challenges,
e) Future forecasts and opportunities
Telephone coverage is approx. 95% of the country
International calls made from Somaliland are some of the cheapest in Africa
3 major Telecom companies: Telesom, Somtel and Somcable
Somaliland is amongst the most active mobile money markets in the world
26% of telephone subscribers use mobile money to pay bills – the highest in the world
1. Introduction
1.1 General background and introduction to the Telecoms industry in Somaliland
Prior to Somaliland's re-independence in 1991, the telecoms sector was heavily monopolized by the central government led by the corrupt regime of Siad Barre. Since the overthrow of his regime, Somaliland has developed a modern and telecommunications industry with widespread mobile usage among the populace. Regarding Somaliland's telecoms sector, it has substantial coverage with strong telecommunication services reported in all regions. A privately owned dominated ICT sector is seen as one of the key contributing factors for telecommunications access in regional Somaliland.
Under the late dictator's Socialist regime prior to 1991, the telecommunications sector in Somaliland had always been in the public domain, without there being a single private sector service provider. However, the solitary state-owned telecommunications provider itself disintegrated with the collapse of the central government in 1991. The ensuing civil strife and political chaos at the time led to the destruction of the Public Switch Transmission Network and other key telecommunication infrastructure throughout then then Somali Republic. Hence, for a number of years the Somaliland's telecommunications network was, by and large, disconnected from the rest of the world. Therefore, Somalilanders were generally without the means to connect to the large expatriate community of friends and relatives outside the country and vice versa. Nevertheless, for business savvy Somali entrepreneurs this void presented an amazing opportunity rather than a dilemma. By exploiting the gap in this now unregulated market various privately-owned companies emerged, competing to provide missing infrastructure and telecommunications services both local and international. In 1993 alone, nine telecommunication companies emerged. With the privatization of these companies came competition, allowing for an expansion of mobile services, lower costs, greater efficiency, an overall decrease in prices, and technological advancement in the sector.
Observers of Somaliland's telecoms sector are in agreement that the economic policies of the late President Mohamed Ibrahim Egal (which included a light touch regulatory approach to telecoms) strongly boosted the sector and Somaliland's economy. Indeed, during President Egal's demilitarization campaign, he chose to borrow substantial, multi-million-dollar loans from business tycoons to fund the early stages of state-building in Somaliland. A key contingent of these Somaliland based business tycoons were from the telecoms industry both in Somaliland and nearby Djibouti. Since the President Egal era, Somaliland's telecommunications sector has grown substantially and has been facilitated by the simplicity of the infrastructure required and quick returns on investment. Together with the remittance sector, the telecommunications sector has become the leading private sector industry within Somaliland. External analysts have long referred to Somaliland's telecommunications systems as among the best and most innovative in Africa. Somaliland's main telecom players Telesom, Somtel and Somcable even offer competitive data and voice services. Somaliland can lay claim to one of the most technologically advanced and competitively priced telecommunications and internet services in the world. Somaliland's telecoms sector has been funded by entrepreneurs and backed by expertise from China, Korea and Europe, these nascent telecommunications firms offer affordable mobile phone and internet services that are not available in many other parts of the continent.
1.2 History of Telecoms sector in Somaliland
The rapid development of the telecoms sector in Somaliland took place in the mid-1990s during Somaliland's early state-building years. As such these major telecommunication service providers competed in a deregulated market with the absence of: taxes, regulatory laws and the collapse of foreign exchange controls as well as the lack of license providers. Since then these major telecom operators moved quickly to take advantage of the lack of restrictions and regulation made possible by the lack of a functioning regulatory law overseeing the telecoms sector.
A key characteristic of this period is that Somaliland's private sector led on the growth of the telecoms sector compared to the government as in most African states. Telecom operators instead pooled their own resources to build the required infrastructure such as communication towers and radio masts for fixed voice and internet services. Following on from this, during the early 2000s these same telecom operators took the lead in installing cell towers throughout the country to create Somaliland's current cellular network. The raised structure cell towers typically support antennae and one or more sets of transmitter/receivers' transceivers, digital signal processors, control electronics and a GPS receiver for timing. In Global System for Mobile Communications (GSM) networks, the correct term is Base Transceiver Station (BTS), and colloquial synonyms are "mobile phone mast" or "base station". The term "base station site" might better reflect the increasing co-location of multiple mobile operators, and therefore multiple base stations, at a single site. Depending on an operator's technology, even a site hosting just a single mobile operator may house multiple base stations, each to serve a different air interface technology (CDMA2000 or GSM, for example). Such an environment also allowed equipment to be brought in cheaply and set up quickly. In short, the lack of red tape, government interference and regulation freed Somaliland's telecoms operators to become innovative and fast moving compared to their African peers who were mostly owned by major foreign operators such as Orange and Indian based Bharti Airtel. This has enabled Somaliland's main telecom operators to count themselves as among the most sophisticated in Africa. Somaliland's telecoms consumers are able to make the cheapest local and international calling rates in the world. Customers can conduct money transfers and other banking activities via mobile phones, as well as easily gain wireless access. In Somaliland, the local availability of telephone lines (tele-density) is higher than in neighboring countries; which is three times greater than in adjacent Ethiopia. In short, without the leadership of the private sector in Somaliland's telecoms sector, fixed line and mobile penetration would not be as high as they presently are.
1.3 The widespread usage of telecoms and mobile communications among Somaliland's population
2. Telecoms Regulation in Somaliland
Somaliland's Telecommunications Sector is regulated by the Ministry of Posts & Telecommunications based in the national capital, Hargeisa.
On 13th June 2011, the House of Elders passed the law, without any amendments, on an overwhelming majority of 75 for, 1 against and none abstaining. On 5 July 2011, the former President Ahmed Mohamed Mohamoud "Silanyo" signed the law on which is now in force. The Executive decree which enshrined the law is the President's Decree (Decree No. 0164/ 072011 dated 05 July 2011).
This Law which has been subject of much controversy has been mooted by the government previously on many occasions as far back as 2004 when a bill to connect the ever-growing private telecommunication companies' services was consulted upon by the relevant Ministry. Prior to this, Somaliland was utilizing the pre-1991 outdated legislation (the 1975 Telecommunication Law and the 1979 Telecommunication Regulations) which had not been in force in Somaliland. Somaliland's government takes a light regulatory approach to telecommunications and has sought a regulatory regime that does not stunt competition and growth, and the proponents of the Law see it as the foundation of the new regulatory process.
Figure: Somaliland government policy for telecoms sector – taken directly from National Development Plan 2017-2022
3. Telecom Sector in Numbers
Information &Communications Technology (ICT) encompasses a broad range of communication networks, devices and applications including radio, television, telecommunications, internet networks and satellite systems. In Somaliland, ICT is quite advanced with six private telecom operators, namely, Telesom, Telecom, Somtel, Nationlink, Africa Online and Solteco. Internet and telephone coverage reaches across all regions and districts providing access to approximately 95% of the country. Companies such as Somtel provide wireless internet services to remote areas through the installation of a dedicated antenna that picks up signal from the nearest tower. Fibre optic and cable internet connection is currently being introduced by Somcable which will once completed be a landmark initiative providing businesses and future entrepreneurs with the opportunity to exploit the online economy. Despite these remarkable advances made in the telecommunication sub-sector, interconnectivity between the various telecom operators has been elusive and customers of different companies cannot communicate with each other.
The extent to which Somaliland has achieved universal and affordable access to the Internet is not quite known but indicative reporting has suggested that the high costs of high speed internet make accessing this service elusive. However, the cost of local telephone calls and text messages are affordable. International telephone calls made from Somaliland are some of the cheapest in Africa (less than $0.20 per minute).
In relation to public media Somaliland has only one public run radio station, Radio Hargeisa, which can be tuned into in and around Hargeisa on the FM frequencies and regional wide non-FM frequencies. BBC and Voice of America have wider regional coverage. There are no privately owned commercial radio stations in Somaliland. Public television services are provided by the Government's owned National Television Station (Somaliland National TV), Horn cable TV, Bulsho TV, and Star TV, etc. Satellite television is available and DSTV provides a large range fee-based cable channel services. DHL, Aramex and Hilaac services are the only privately owned available postal services in Somaliland.
4. Key Players in Somaliland's Telcom sector
Given the complexity of operating in Somaliland's political environment, investment in the telecommunications sector is almost exclusively led by Somalis from the diaspora and from within the country; this is substantially different from elsewhere on the continent, where multi-national conglomerates such as MTN and India's Bharti Telecom or France's Orange dominate. This Somali-driven innovation has made mobile money products uniquely suited for the very difficult context in which they operate.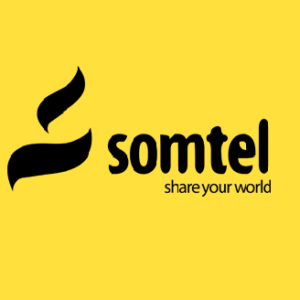 4.1 Telesom
The telecommunications sector in Somaliland has proven to be financially lucrative for the main players in the market. Telesom is widely considered the leading operator in terms of subscriber base and revenues. However, Telesom similar to Somalia-based leader, Hormuud Telecom has developed an innovative and sophisticated method of funding its operations.
Collective Ownership: Telesom since its founding has made it easier for local shareholders to invest in the company and according to insiders there are now over 1500 prominent Somalilander investors spread across the country who own shares in Telesom. It is worth mentioning that Telesom revolutionized this method of shareholders and dividends in Somaliland and thereby inadvertently promoting a culture of investing collectively in privately held companies in Somaliland. This business model has enabled Telesom's shareholders and executive management to reinvest profits into other ventures such as SONGAS and Darasalam Bank.
Figure: Telesom Group Annual Shareholders Meeting 2016
4.2 SomTel
Back in 2008, MTO Dahabshiil, became a major shareholder in the communications company, Somtel. In response to government and Central Bank pressure, it also launched a mobile money service, E-Dahab, for Somtel users. The system is designed to aid mobile money transfer internally and externally, and allows operations in both US Dollars and Somaliland shillings. In 2014, Somtel contracted equipment vendor Alcatel-Lucent to deploy a 4G LTE network across Somaliland. Somtel, part of the Dahabshiil Group, provides pre- and post-paid GSM mobile telephony and data services over a GPRS/EDGE network in Somaliland and launched third-generation (3G) services in July 2011. Somtel's network coverage and branches can be found in every region. It quickly rose to be one of Somaliland's leading telecommunication companies with its outstanding services which include latest technology in Mobile Data, money transferring service (E-Dahab), International roaming and more services. Somtel's mission is to deliver the best-in-class total customer experience domestically, and to deliver attractive products to its customers via its services and also to support the economic development in all the markets it operates in. Somtel aims to consistently foster innovation in addition to deliver first-in-market technologies and get it its subscribers across Somaliland. This is evidenced by its expeditionary trials of being the first in the region to provide the Voip and 4G services. Such diverse technological expertise has helped Somtel capture significant market share as it grows, with many services, including video call, muraad bundles and Value-Added Services (VAS) services it changed market dynamics and continued to provide affordable mobile internet access to customers.
5. Case Studies: Telesom ZAAD
5.1 ZAAD
Telesom is considered one of the market leaders in Mobile Money. It's ZAAD mobile banking service was was launched in 2009 is one of the world's first mobile banking services. It follows Smart in the Philippines which launched in 2000 and Safaricom M-Pesa which launched in Kenya in 2007. While Zaad has taken inspiration from the M-PESA model (Telesom sent a delegation to Kenya and Tanzania to identify which aspects of the service were most relevant for the Somaliland context4), Zaad's system of mobile money is even more far-reaching and has taken on services that are normally the remit of banks. Users of Zaad, for example, are encouraged to keep their money in e-wallets rather than withdrawing the money once it arrives, as is typically the case for mobile money users in other parts of Africa (Penicaud and McGrath 2013). One of the unique features of Zaad is the Kaafi service, which enables customers to save and withdraw money directly from Dara-Salaam bank accounts, and to engage in financial transactions overseas.
Zaad's dominance in the mobile money sector has been achieved partly by facilitating an ecosystem of mobile money in which large employers such as Amoud University and Kaah Electric Power Company have been encouraged to use Zaad to pay monthly salaries. Coca-Cola's bottling plant in Somaliland, for example, is Africa's only branch that operates entirely using mobile money and online transfers; the CEO has claimed to 'never handle a single dollar in cash' (York 2013). Zaad has grown because it uses US Dollars, meeting popular demand for hard currency in Somaliland. This helps people transfer and store US Dollars in Somaliland, giving them a mechanism to cope with a domestic economy whose volatility the state of Somaliland seems unable to address. In May 2015, following pressure from the government and Somaliland's Central Bank, Telesom unveiled a new Zaad service in Somaliland shillings (ShSl). Its initial operations were limited.
Since then launch of Telesom's ZAAD service in 2009, the service has gained significant traction: in June 2012, almost 40% of Telesom GSM subscribers were active users of Telesom ZAAD. What is most striking about the service is the level of activity on the mobile money platform. Active Telesom ZAAD users perform over 30 transactions per month on average, far above the global average of 8.5 per month.1 Telesom ZAAD is recognized as one of the most successful mobile money services in the world.
The World Bank's Global Financial Inclusion Database (Findex) recently revealed
that Somaliland was one of the most active mobile money markets: 26% of the population reported using mobiles to pay bills, which is the highest rate in the world, and 32% to send and receive money. Most of this mobile money activity has been driven by Telesom ZAAD. This case study details the success of Telesom ZAAD and the factors underlying this success. The objective for Telesom's mobile money service, in the words of its CEO, has always been to bring financial inclusion to Somaliland. It was this vision that drove the company to offer their service to customers for free, and it has produced a number of other unique outcomes as well,
which are discussed in the first section of the case study.
To transform its vision of financial inclusion into a reality, Telesom's strategy has been to develop the mobile money ecosystem around Telesom ZAAD. This ecosystem is focused on solving two issues faced by mobile money services around the world: getting money into the system and then keeping it there. Most mobile money services are still functioning as a money transfer service, with customers withdrawing all their funds from the system as soon as they receive them. However, Telesom ZAAD has succeeded in convincing users to keep money in their e-wallets by building an ecosystem of salary payers and merchants. Exactly how the ecosystem works and how the business is structured is central to its success.
Figure: Telesom ZAAD strategy compared to Safaricom M-Pesa strategy
5.2 Telesom ZAAD and reporting regulations
The Central Bank of Somaliland was inaugurated in 1994. When Telesom ZAAD was launched in 2009, there was no e-money regulation in place and Telesom was granted a remittance license. Since the remittance regulation does not provide specific guidelines on the provision of mobile money services, Telesom decided to take a proactive approach to identifying and implementing customer due diligence (CDD) procedures. To mitigate the risk of the service being used for financial crime, Telesom adopted CDD procedures that are compliant with the international guidelines issued by the Financial Action Task Force (FATF). All Telesom ZAAD customers are subject to identification procedures that confirm their identity.
If the customer is a company or firm, Telesom ensures it is properly constituted and that all direct and ultimate shareholders or beneficiaries are identified as fit and proper persons with whom to do business.
Following the FATF recommendation to adopt a risk-based approach to customer due diligence, Telesom created two types of ZAAD customer accounts: ordinary accounts with a balance limit of US$ 2,000 and high-value accounts. To open an ordinary account, a customer must visit one of Telesom's stores and show an identity document, such as a passport, driving license, or other valid identification document. Since there is no formal nationally issued ID in Somaliland, many customers do not have an identification document. Those customers can sign up for the service if they are referred by a local chief or well-known businessperson, who must provide written confirmation of their identity. Every customer's proof of identity is copied and stored digitally by Telesom, together with a photo of the customer. This allows all agents to check the identity of any registered Telesom ZAAD customer every time the customer performs a cash-in or a cash-out when their image appears on the agent's computer screen. All agents have a personal computer connected to a central database and are also able to tag any new customer they register as "low risk" or "high risk", based on an interview during the registration process. The transactions of high-risk customers are closely monitored by Telesom ZAAD, which verifies the source of funds to ensure they match the customer's information, business, and risk profile.
Telesom ZAAD has appointed an AML reporting officer and deputies who are responsible for ensuring that Telesom ZAAD agents and the rest of Telesom staff are vigilant in detecting and preventing illegal activities. Telesom ZAAD regularly monitors and reviews the appropriateness, effectiveness, and adequacy of its KYC compliance policy and procedures. All Telesom ZAAD agents and Telesom staff are trained at least once a year on KYC compliance to ensure that they understand and are committed to upholding Telesom ZAAD's compliance policy and procedures.
Figure: Telesom ZAAD Business model
5.3 Telesom ZAAD success
Telesom has put a lot of focus into building an active subscriber base, for both customers and merchants. These efforts were quickly rewarded – just one year after the launch of Telesom ZAAD, over 70% of subscribers were actively using the service. The active subscriber rate has remained at the same level ever since and has never fallen below 70 percent. It is interesting to note that both the customer base and the merchant base have always grown hand-in-hand. Since the launch of Telesom ZAAD in June 2009, Telesom has maintained a ratio of approximately 43 registered customers per registered merchant. In April 2013, over 368,000 customers and 8,600 merchants were registered on Telesom ZAAD and 275,000 of these were active. This represents 35.6% of Telesom's GSM base.
Figure: ZAAD subscriber growth over time
6 Challenges
6.1 A RAPIDLY GROWING SECTOR
Somaliland's telecom sector is considered one of its most innovative and revolutionary. Examples can be found in the advent of mobile banking which has a higher penetration rate in Somaliland compared to many countries in Europe. Despite this phenomenal growth rate, Somaliland's telecoms sector faces a myriad of challenges. One such challenge is expanding rural coverage. Currently, the main cities such as Hargeisa, Berbera and Borame have excellent mobile coverage. However, Somaliland's eastern regions are under covered by Somaliland based operators. As such this has meant that many consumers in these regions are forced to utilize Golis Telecom and other Puntland (Somalia) based mobile operators. This lack of standardization in Somaliland's telecoms sector could potentially have serious repercussions for the sector and limit the ability of the state to broaden their tax revenues among Somaliland's leading operators. Somaliland's government needs to a develop framework for the entire sector—a sector growing at the point where telecommunication and finance meet.
6.2 LACK OF TAX REVENUES GENERATED FROM THE TELECOMS SECTOR
Despite telecoms being one of Somaliland's largest sectors it has never led to substantial tax revenues for the government. The tax system in Somaliland is a regressive tax system, and one that needs improving since the country collects less than 7% of its GDP in overall tax revenues – below the minimum level of 20% considered by the UN as necessary for sustainable growth. Moreover, corruption exists in this tax system. Despite this, over recent years the tax system has been shifting from an informal system to a more coherent one, and local authorities are taking control so that it can be dealt with more effectively. In addition, the population of Somaliland is still very willing to pay tax, not only because they want to support their unrecognized country as it receives a very low level of foreign support, but also because they have seen improvements from the income of taxes, such as newly constructed roads, rubbish collection and vehicles for establishments such as hospitals. Somaliland's telecom operators barely pay tax at the necessary usual rates and instead they decline to disclose their revenues to public or government bodies. Somaliland's telecom operators have instead played an outsized role in Somaliland's elections by supporting favoured "business friendly" candidates that will be seen as continuing the status quo. With the election of the current president Muse Bihi in late 2017, Somaliland's new administration is expected to focus on expanding the company tax base in line with Somaliland's own tax rules for resident companies. As telecoms is rumoured to be sector worth hundreds of millions in Somaliland, a sustainable taxation base would go a long way to ensuring that the government is able to broaden its annual budget.
Figure: Comparison of Somaliland's Corporate income tax base
6.3 MOBILE BANKING REGULATION
Above all, the onus of protecting Somaliland's mobile banking service consumers rests with Somaliland authorities, especially the Central Bank, to make sure that those companies who provide the service, provide it in a prudent, legal and responsible manner. It is also the Central Bank's responsibility to make sure that there is financial inclusiveness for all and that their operations fill the existing gaps in the Somaliland economic landscape. Consumer's money in mobile platforms should be protected in case the service provider collapses. Similarly, in case of a company's insolvency, it should be ensured that a company's creditors do not claim the customers' deposits. This can be achieved by not keeping the customers' deposits in the name of the company but in a different one. In Kenya, customer deposits in M-Pesa are kept in the name of a third party, pre- agreed upon by the Central Bank of Kenya. Moreover, regulatory authorities are required to make sure that mobile banking service providers maintain liquid assets equivalent to the total value of the customer funds collected. The Central Bank of Kenya requires M-Pesa's provider, Safaricom, to keep the fund liquid by placing collected cash in regulated banks. To diversify risk, in Afghanistan regulatory authorities require that funds be kept in different banks. In Somaliland ZAAD is part of Telesom group of companies who also own the Darasalaam bank.
The Central Bank of Somaliland has not adopted these protective measures as it is highly dysfunctional and acts as a regulatory authority rather than a government currency storage and withdrawal facility. This allows mobile banking providers such as ZAAD to actively invest customer deposits in illiquid assets such as real estate, which may force them to print numbers as currency in case they run out of liquid cash. Furthermore, customer funds must be separate and not co-mingled with the working capital of the service provider which is clearly not the case in Somaliland.
6.4 the dollarization of the economy and inflationary effects
In Somaliland, it is widely believed that popular mobile banking services such as ZAAD drives inflation. This perception is related to the view that the primary focus on dollars as the currency of choice in ZAAD leads to a "dollarization" of Somaliland's economy. There are no econometric studies linking ZAAD to inflation. 'ZAAD props up prices,' said Wali Dauud Egal, Director of Planning at the Ministry of Finance, who contends that it is civil servants, paid in Somaliland shillings, who feel the inflationary effects of ZAAD's use of the US Dollar most of all. The Ministry of National Planning and Development says the cost of living in Somaliland has increased dramatically in the past five years which is in line with the substantial explosion in the usage of ZAAD among consumers. Other factors, such as a crackdown on smuggling across the border in Ethiopia, may have also had an inflationary effect. As such, Somaliland's civil servants suffer the most from inflation. The state is the country's biggest employer. It has about 50,000 people on its payroll, as well as many thousands of military personnel—the exact number is not usually made public. Most civil servants use ZAAD on a daily basis but they are the first to complain about Telesom's clout and to call for stricter oversight of it.
7 Future Outlook and Opportunities
7.1 Somaliland's government to take a more activist role
For Somaliland's telecoms sector to truly take off, the government must take a lead role by creating a regulatory body similar to Kenya's Communications Authority (CAK) which is considered a regional leader in telecom operators in East Africa. For Somaliland's government, the creation of a regulatory body able to monitor mobile operators is paramount. Such a body will be able to dispense licenses for MVNO's aswell as introduce policies that encourage innovation within the overall economy.
7.2 4G expansion of network coverage
Operators in Africa are looking to overcome their concerns on the costs of 4G network rollouts by stressing to regulators the needs for additional spectrum allocations. Lower frequency band allocations (below 900Mhz) will enable operators to cover greater land areas with fewer base transceiver stations, while high frequency band allocations will enable offering greater speeds and a more reliable service, but with lower coverage capability. Since 2015, several regulators concluded consultations on the awarding of spectrum in the 800MHz band, this has also been supported by analog to digital switchover initiatives in the region. Some operators have thus acquired lucrative spectrum allocations to launch 4G services, for example, in Morocco, all operators now have allocations in the 800MHz, 1800MHz and 2600MHz bands; this provides a strong foundation to offer nationwide 4G. For Somaliland based operators as they expand their 4G services this could be of particular interest.
Figure: 4G spectrum allocation
Figure: Comparison of regional 4G spectrum
The 4G opportunity for Somaliland's mobile operators is substantial and can lead to higher revenues, especially in terms of data revenues. Operators in Somaliland would no longer need to focus on mobile voice revenues or minimal SMS revenues. Three key segments that operators should consider tailoring their 4G services to are:  The 4G opportunity for Somaliland's mobile operators is substantial and can lead to higher revenues, especially in terms of data revenues. Operators in Somaliland would no longer need to focus on mobile voice revenues or minimal SMS revenues. Three key segments that operators should consider tailoring their 4G services to are:
Youth and tech-savvy segment: Offering data bundles specifically for OTT services such as video, music streaming and smartphone bundles. For example, Zain Kuwait offers 4G services targeted at online gamers as well as unlimited access to iTunes.
Residential segment: Offering 4G services for multiple users. This strategy offers households the option to subscribe to a cheaper alternative to fixed broadband services. In Tanzania, TCCL (the incumbent fixed operator) offers a specific 4G package for households using multi-user devices (modem/router/MiFi device).
Enterprise segment: The need for reliable broadband connectivity is leading to a strong opportunity for operators to offer fixed-wireless LTE services to enterprises in several African countries. The majority of operators offer this service on a customized basis depending on business needs (e.g., speed and data usage requirements).
Figure: 4G product strategies among leading mobile operators
7.3 Opportunities for emerging MVNO's to add value – high returns despite high barriers to entry
Mobile virtual network operator (MVNO) is a mobile communications services provider which does not own electromagnetic spectrum, nor all or part of the network infrastructure and other operational capabilities required to provide mobile services to its customers. In order to be able offer services, MVNOs sign agreements with mobile network operators (MNOs) from which they buy minutes, SMS and data at wholesale rates. While most MVNOs tend to retain customer care, sales and marketing capabilities, they can delegate other functions to the MNO or a mobile virtual network enabler (MVNE). Also, instead of dealing directly with a MNO, smaller MVNOs might find it more advantageous to sign wholesale deals through an operator.
Niche and retail are the most prevalent business models in Africa, accounting for 35% and 20%, respectively, of total MVNOs observed in the region. Ethnic accounts for 15%, while the remaining MVNOs cover operator sub-brand, business, discount, roaming, and data. Somaliland's future MVNOs can focus on niche markets, particularly those targeting young demographics, due to the growing population below the age of 30. For instance, Virgin Mobile in South Africa primarily targets youth by focusing on high-value product offerings such as free on-net calls and innovative data bundles. Similarly, Ugandan MVNO K2 targets youth by offering low cost data and voice packs. Other examples for Somaliland's operators to imitate includes; Retail MVNOs which have continued to expand their footprint in African markets over the last twelve months. Banks in Africa have shown interest in launching MVNOs in order to leverage their existing retail customer bases. In 2014, for example, Equity Bank Group launched its MVNO Equitel in Kenya, providing a new integrated mobile banking service. Moreover, in June 2015, First National Bank launched its commercial MVNO operations on Cell C's network in South Africa. Other retail-based MVNOs include Tangaza in Kenya and MRP Mobile in South Africa.
Figure: MVNO business model in Africa
Closing Remarks:
A lot of research and writing time went into publishing this report and our team would be appreciative of any feedback from our valuable readers. This will guide us in all future reports.